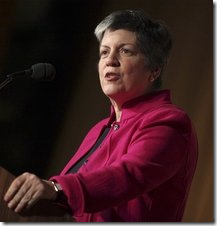 Homeland Security Secretary Janet Napolitano wants to expel what she calls "criminal aliens" from the United States, starting with those already in custody. Napolitano also says that she's looking at existing immigration enforcement programs to see if taxpayers are getting their money's worth.
The agency estimates there are now as many as 450,000 criminals in federal, state and local detention centers who are in the country illegally.
Getting rid of all of these folks would make a nice dent in the illegal immigrant problem. Assuming DHS' count is in the ballpark, we already have 3-4% of illegals locked up at any given moment. But exactly how many – and who – are we talking about?
No one knows.
As a software professional, this is the part that cracks me up:
Napolitano said she wants to improve data-sharing among local, state and federal facilities. So far, there are jails in 26 counties across the country with computer systems that can talk instantly with immigration systems.
Really, 26 counties nationwide? That's pretty unimpressive given my (admittedly unofficial) count of 3,095 counties among the 50 states, including 254 in Texas alone.