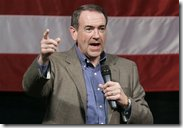 Mike Huckabee has won the first delegates of Super Tuesday, taking all 18 from the state of West Virginia, albeit with a little help from John McCain.
Mike Huckabee won the first contest declared on Super Tuesday, picking up all 18 national delegates awarded at West Virginia's state GOP convention. Huckabee bested Mitt Romney, who entered the Mountain State event with the largest bloc of pledged convention-goers.

Both men and Ron Paul made in-person appeals to the more than 1,100 convention delegates attending Tuesday's convention. But the former Arkansas governor beat his Massachusetts counterpart after delegates for John McCain defected to his side.
Hopefully Huckabee will continue to make a strong showing in other states.  Mike Huckabee is a candidate whose personal faith in Jesus Christ is there for all to see – something that many Americans have wanted to see for a long time.  Far from splintering the Republican party, as some have claimed his openly Christian views might, he represents a constituency whose votes have largely been taken for granted by the likes of Rush Limbaugh, et al.
Win or lose, the 2008 election cycle is better and more indicative of American and Republican values simply because Mike Huckabee is in it.  Here's to hoping he can continue to perform well.