Not to be a sore loser – which I am, in truth – but there was way too much "home cooking" being dished out in the last few minutes of this 2nd round NCAA game, including the last play of the game on which no foul was called. 
Nope, nothing to see here.  Donald Sloan had just sunk a much more difficult shot on the prior possession and was plainly and egregiously hacked by two Bruin players on this one, as even a blind man can see from the pics below.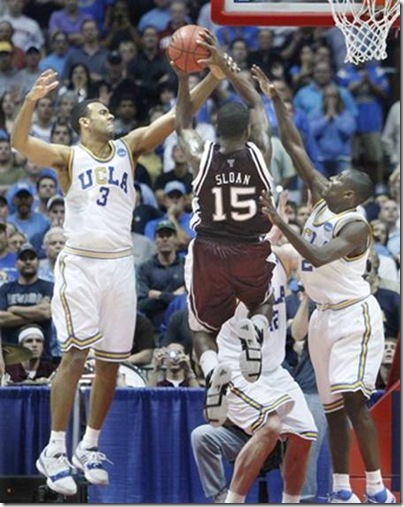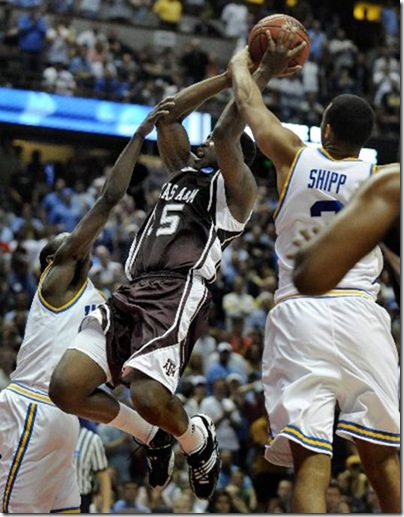 The Houston Chronicle says:
Maybe Donald Sloan would have gotten to the foul line if he'd produced autopsy scars.

Sloan got slapped and knocked down on the way to the potential tying basket in the final seconds of the Texas A&M Aggies' second-round NCAA Tournament game against the UCLA Bruins. The cameras don't lie: In 49 states, what the Bruins defense did to Sloan would have constituted a mugging.

The truth is that the Aggies were in Anaheim, Calif., just down the road from the UCLA campus. The truth doesn't set the Aggies free or send them to the next round.

Right or wrong, that's the kind of call — or non-call — that almost invariably goes the way of the marquee team.
That's something to dislike, not to celebrate, about sports.  Perhaps the NCAA should re-consider the notion of allowing teams to play in their home cities, for the integrity of sports, such as that is.