…why is this rather odd-looking chap receiving a barrage of death threats?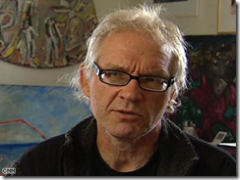 Meet artist Lars Vilks, the Swedish cartoonist whose drawing depicting the head of Prophet Mohammed on the body of a dog, caused a firestorm of controversy and, according to CNN, prompted Al Qaeda to offer $150,000 to the person who slits Lars' throat.
It's difficult to look at Vilks as an iconic figure whose work shows the power of free speech – an earlier Lars-ism portrayed Jesus as a pedophile – but regardless of whose sensibilities he offends his half-baked sketches cannot and do not warrant his murder at the hands of Islamic vigilantes.
Some Muslims feel differently:
One Swedish Muslim woman who lives just an hour-and-a-half drive from Vilks said she hopes to make good on the al Qaeda threat and slaughter Vilks like a lamb.

"I can do this in the name of Allah, and I will not fail. I could slaughter him in the name of Allah," says the woman who identified herself only as Amatullah.

She adds, "If I get the opportunity."

Dressed in a black burqa from head to toe and uttering death threat after death threat, the woman — a wife and mother — says she is defending her religion and her prophet if she manages to kill Vilks.
Charming.
Speaking about his "work", Vilks says:
"That's a way of expressing things. If you don't like it, don't look at it. And if you look at it, don't take it too seriously. No harm done, really," he says.

When it's suggested that might prove an arrogant — if not insulting — way to engage Muslims, he is unrelenting, even defiant.

"No one actually loves the truth, but someone has to say it."
I didn't I see any truth in his drawings, merely the outrage of mediocrity grasping for undeserved recognition.
Even so Vilks deserves the protection offered by a civilized society should Muslims fanatics – exquisitely exemplified by the black-clad and seemingly black-hearted Amatullah – attempt to make good on their threats.