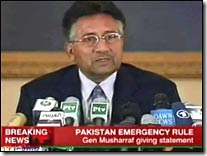 Reuters reports that Pervez Musharraf has committed to holding elections on January 9th, as previously scheduled:
Pakistan's President Pervez Musharraf said on Sunday a general election would be held by Jan. 9 but under a state of emergency he imposed eight days ago.
Musharraf, under pressure from rivals and Western allies to put nuclear-armed Pakistan back on a path to democracy, said the National Assembly and provincial assemblies would be dissolved in coming days, upon completion of their terms.

The army chief also told a news conference he would quit the military and be sworn in as a civilian president as soon as the Supreme Court struck down challenges to his Oct. 6 re-election. He said he hoped that would happen as soon as possible.
But there's a catch:
Musharraf said Sunday that balloting for a new parliament would take place in early January, but he set no date for lifting his emergency decree. 
U.S. Secretary of State Condoleezza Rice called the decision a welcome sign, of course.
"Pakistanis need to see that there is a re-establishment of a road to a democratic path," she said on ABC television's This Week, adding that if Musharraf "carries through on his obligations that he's made to us and that he's made to his own people, that road will be re-established."

Human-rights groups, democracy activists and opposition leaders questioned whether a campaign that took place while liberties were curbed could be called free and fair.
Yes, they could be, if Musharraf restricts his enthusiasm for flexing his muscles to maintaining order and does not extend it to restricting who can run for office, vote, and under what conditions.  The situation, assuming that Musharraf keeps his word, is far from ideal.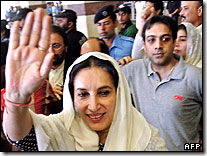 Pakistani opposition leader Benazir Bhutto says she will go ahead with a march from Lahore to the capital, Islamabad, despite security risks.

"I know it is dangerous but what alternative is there when the country is in danger?" she asked.
Unhappy with Musharraf's declaration of martial law, Bhutto says that she will no longer negotiate a possible power transfer with him and that she cannot accept the continuing state of emergency imposed on 3 November.
When asked if she was saying no to more talks with Gen Musharraf she replied: "Yes, we are saying no."

When asked if this marked a change in policy she said: "Yes it is a change, it is a change from my party's past policy."
And as to the million-dollar question – what is the status of Pakistan's nuclear capability amidst the turmoil – the Pakistani foreign ministry responded to possible U.S. plans to "intervene" to ensure these weapons are kept out of the hands of extremists:
the Pakistani government has warned that it has sufficient retaliatory capacity to defend its nuclear weapons.

…

The Washington Post quoted unnamed US intelligence officials as saying such plans included contingency action to stop any possible raid on Pakistani nuclear stores and to move the weapons to another location.

Dismissing the report as irresponsible conjecture, the Pakistani foreign ministry said there was no risk of the weapons being taken by any group.

If another country tried to intervene, Pakistan was ready and able to defend its nuclear arsenal, the foreign ministry said.
Let's hope they're as capable of deterring an internal threat.