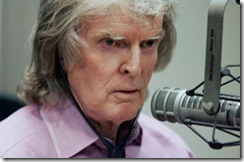 Don Imus will be coming back over the air in New York starting December 3rd.
Redemption! Since the dark days of April, Mr. Imus, 67–a denizen of Central Park West, and one of the paradigmatic radio heroes of the 90's–has accomplished the beginnings of a media resurrection. Last month, he siged a 5-year deal with Citadel Broadcasting, through which he'll return to the radio on December 3rd, as the host of a morning drive time show on the company's WABC, the top-ranked AM radio station in New York City. The agreement, which will end Mr. Imus' six-month sabbatical, is reportedly worth between $5 and 8 million annually—a pay-cut from Mr. Imus' $10 million annual salary at CBS.

…

Crucially, many of Mr. Imus' big-name guests from the worlds of politics and media appear ready to welcome him back with open arms, unconcerned about the inevitable charges that by returning to the scene of the crime, they're accessories to buddy-buddy bigotry. Indeed, Mr. [James] Carville—not a man known for turning down opportunities for publicity—told The Observer that he's already locked in as a guest on Mr. Imus' first day back.
…

WABC execs say they have syndication deals in the works. They wouldn't elaborate, but Mr. Harrison said that with the syndication and the muscle of the ABC radio network behind him, Mr. Imus could get his audience up to as high as 6-10 million listeners a week, within the next year. "Citadel has a lot to prove," he said. "This is their first major aggressive move. They're going to want to make it work."

And publishers are guessing that his former power—second only to Oprah, say industry experts—to move books off shelves simply by using his show to give a platform to authors, will be undiminished. "I don't think he'll miss a beat," said Seale Ballenger, a publicist at William Morrow. "I think his show will pick up right where he left off, and I think it'll be just as important as it was in its previous incarnation."
Important? That doesn't seem to be the right word for a foul-mouthed mouthpiece like Imus.
In my opinion, his firing was craven on the part of CBS execs. Better to have let market forces determined his fate. And Al Sharpton's calls for a boycott, while clearly a selective, racially amplified response to standard Imus fare, would have been a legitimate component of the market's decision had CBS not short-circuited the process.
Even so, I'm glad to see him back practicing his profession of choice so that we will have the chance to demonstrate that we simply don't care for Don Imus.