John McCain has picked Alaska Gov. Sarah Palin as the bottom half of his ticket.  Having never heard of her before there's little to be said at this point, although the lack of notoriety Palin brings to the party speaks for itself in some ways.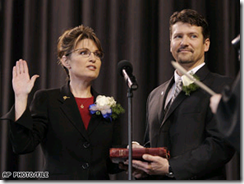 CNN:
Palin, 44, who's in her first term as governor, is a pioneering figure in Alaska, the first woman and the youngest person to hold the state's top political job.

She catapulted to the post with a strong reputation as a political outsider, forged during her stint in local politics. She was mayor and a council member of the small town of Wasilla and was chairman of the state Oil and Gas Conservation Commission, which regulates Alaska's oil and gas resources, in 2003 and 2004.

The conservative Palin defeated two so-called political insiders to win the governor's job — incumbent Gov. Frank Murkowski in the GOP primary and former two-term Democratic Gov. Tony Knowles in the 2006 general election.
All good, as far as it goes.  The million dollar question is this:  If John McCain's health falters, is Sarah Palin the person Americans would most want in the White House?
The answer is, I think, quite clearly "No!", if based only on the fact that we have no idea who this person is.
Palin's reputed independent streak is an asset, in my mind, as is the get-it-done attitude most Alaskans learn from the environment in which they live.  Her lack of experience in big-time national politics works against her, obviously, since it's debatable whether she even matches Barack Obama's virtually non-existent record.  Ted Stevens' recent ethics indictment won't help either.
In sum, a surprising choice that will either prove to be a major blunder or tremendous coup for McCain.