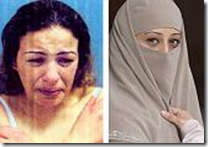 In Chicago, Nour Hadid was arrested for beating her 2-year-old niece to death over a period of 4 days using "a wooden spoon, a stick and shoes" in retaliation after her husband accused Nour of stealing from him.
Hadid has confessed to the crime but the little girl's death doesn't seem to be what's important to her husband, Alaeddin Hadid:
Alaeddin Hadid – who insists his wife is innocent – said Orland Park police are "really going to be in big trouble" for releasing the woman's booking photo to the news media after she was charged with first-degree murder.

The Hadids are Muslims and Nour "never leaves the home without covering up," said Alaeddin, who's vowed to sue.

By custom, some practicing Muslim women wear the hijab, or headscarf, and cover their arms and legs when in public.

In the mug shot, a bare-headed and obviously emotional Nour appears to be protecting her modesty with her hands.

"It is against our religion; we do not do this in our culture," Alaeddin said.
Sue, by all means. With a little luck the Hadids will run into a jury with the courage to remind him that that he's not living in his culture any longer and murderers are in fact booked and photographed according to standard police procedures in this country – regardless of where the killer hailed from.
If the photo is an "insult against our religion" as Hadid claims then he would do well to remember that some insults are deserved, never more so than in the case of a cold-blooded child killer.
As this case comes on the heels of Washoe County School District settling $400K on a Muslim student as a result of an alleged bullying incident involving her religion, it is an ideal opportunity for Chicago law enforcement officials to stick to standard operating procedure and demonstrate that the law and its consequences apply equally to every person in the land, regardless of class, creed, or religion.
To be fair, it would have been ideal for police to have given Mrs. Nour a t-shirt or whatnot for the photo. Then again, it would have been better still for the woman not to have beaten a defenseless child to death.