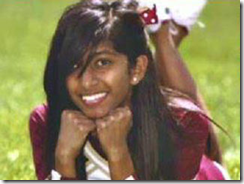 17-year-old Rifqa Bary should be a household name after her recent attempt to break free of her Muslim parents and live her own life as a Christian. Sadly that dream came to an end today after a judge ruled that she must return to Ohio and go into foster care rather than stay in Florida as she'd hoped.
One has to wonder what will become of her now. Will her parents or other relatives, outraged that the girl has rejected Islam, make her fears a reality:
"If I had stayed in Ohio, I wouldn't be alive," she said. "In 150 generations in family, no one has known Jesus. I am the first — imagine the honor in killing me."
Perhaps the publicity that her high-profile case has generated to-date will serve as a shield substantial enough to protect her from the fate suffered by many young women around the globe who turn away from Islam. Or perhaps Ms. Bary has never been in any danger from her family, despite her fears. Or perhaps she will in fact be murdered in Ohio in the months to come.
Presumedly she will be free to do as she wants when she turns 18. If she lives that long. If not, her fate will have been sealed by the ill-advised judgment of Judge Daniel Dawson, a man whose understanding of the larger world struggle seems to be lacking.