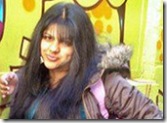 The 16-year-old Muslim girl Michael wrote about earlier has died as a result of injuries her father inflicted on her because she would no longer wear a hijab as he demanded.
This heinous act can only be described as the most despicable betrayal possible – the deliberate murder of a beautiful child at the hands of her own parent.
What is the purpose behind such a crime? The hope of pleasing Allah? If so, something is seriously wrong with either the Islamic religion or the interpretation of same.
Aqsa Parvez, a student at Applewood Heights Secondary School, had been on life support in hospital since yesterday morning.

…

Muhammad Parvez, 57, has been remanded in custody and was to make his first court appearance today in a Brampton court.

The victim's brother, 26-year-old Waqas Parvez, was also arrested on a charge of obstructing police.

…

The teen was known to her classmates and Facebook friends as Axa. She posted several pictures of herself on the website in colourful clothes and accessories.

At Aqsa's high school, friends gathered in groups yesterday, struggling to come to grips with what happened and lamenting how she had quarrelled with her father to the point that she recently moved out to live with a friend.

"She said she was always scared of her dad, she was always scared of her brother … and she's not scared of nobody," said classmate Ashley Garbutt, 16.
The fact that Aqsa's brother was charged with obstructing justice is interesting as well.
In many honor killings it is the girl's family who are the murderers. And often it is an older brother whose hatred runs the deepest, as in the case of Hatin Sürücü, a Turkish woman killed by her brothers because she refused to live as they saw fit.
In the gruesome rape and murder of Banaz Mahmod it was her father and uncle who orchestrated her torture and strangulation, a brutal, utterly remorseless act that took 2.5 hours to carry out.
Where is the honor in these men's souls?
That's rhetorical – they have none.
4 words. "Throw away the key."