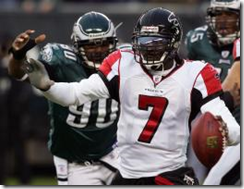 After serving 18 months in a federal prison, Michael Vick will be suiting up for the NFL's Philadelphia Eagles in less than two months. Presumedly Vick will be acting as Donovan McNabb's back up for the short term. But that casting won't last long. Vick is too talented to play second-fiddle to the aging and erratic McNabb – barring the absence of another run-in with the law on Vick's part.
Terms of the deal haven't yet been disclosed, but Vick will be working for relative peanuts compared to the massive contract the Atlanta Falcons had given him before his intimate involvement in a brutal dogfighting ring was discovered.
Whether Vick can stay clean is far from a sure thing. Prior to going to prison, Vick was a lowlife punk whose athletic ability had outweighed his lack of intellect and morals. Vick's brother Marcus is just as bad or worse, something that could work for or against Vick in the future. It all depends on his personal growth, an intangible of the highest order.
Did Vick learn the key lesson from his stretch in the Big House, namely that no one is untouchable or above the law, even a big-time NFL quarterback? Time will tell. Personally I don't think we'll see Vick in trouble again.
One thing is certain: Not everyone is excited to see Vick back in the NFL:
The animal rights group, People for the Ethical Treatment of Animals, wasted no time reminding people exactly what Vick had done.

"PETA and millions of decent football fans around the world are disappointed that the Eagles decided to sign a guy who hung dogs from trees. He electrocuted them with jumper cables and held them under water," PETA spokesman Dan Shannon said.

"You have to wonder what sort of message this sends to young fans who care about animals and don't want them to be harmed."
The message it sends is obvious: NFL players are profit centers, not role models. It's all about providing value to one's team – there is no other criteria by which an athlete can be legitimately evaluated, which is as it should be.
It's entirely up to the Eagles ownership and management to estimate that value and weigh it against the good will that signing Vick will cost them. And it will cost them. But as the Dallas Cowboys and the other teams in the NFC East are about to find out, a few hurt feelings and alienated fans are chump change compared to a Super Bowl ring.